Floodsax in the US
Discover why Americans love FloodSax alternative sandbags
FloodSax alternative sandbags are the number one sandless sandbag in the US which is why the USA now has its own FloodSax US website https://www.floodsaxus.com/
Well over 2.5 million FloodSax have been sold across the world over the last 13 years, many of them in America, and we are now appointing a new specialist USA FloodSax supplier who has a nationwide distribution chain.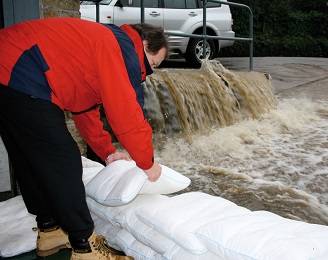 In the USA FloodSax have proved themselves in action time and time again which is vital as scientists say it's raining in the US more than ever before with almost a third more rain falling today during heavy downpours than in the late 1950s … and it's only going to get even worse in the future.
A graphic example of FloodSax saving American homes came when Hurricane Sandy wreaked havoc across the USA in 2012.
Around 50 properties were at risk of being badly damaged by floodwater storm surge when the Delaware River rose 2ft as the storm struck the New York area but they were saved by a wall of FloodSax which kept back both the floodwater and tons of debris. 
Jonathan Cochran, who built the wall of FloodSax USA alternative sandbags (pictured below), said: "If the water had got into the basement at these homes the damage in each one would have been in the region of $3,000 or $4,000. These homes had suffered from flooding before and there was no way the people living there wanted to go through that again."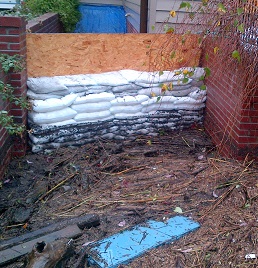 When it comes to protecting homes and businesses from flooding, thousands of Americans now rely on FloodSax 'sandless' sandbags which are space-saving to store so you have the peace of mind of flood protection 24/7. They are quick and easy to deploy.
FloodSax resemble large pillowcases which means 20 fit into a cardboard box. When they come into contact with water they absorb the water to inflate to weigh 20kg (44lbs) which makes them more effective than traditional sandbags at keeping floodwater out.
FloodSax are way better and more flexible than traditional sandbags that are difficult to fill with sand and are a logistical nightmare to move anywhere. They often deteriorate and can fall apart if stored in warehouses for long periods of time.
FloodSax sandless sandbags are vacuum-packed and five go into each easy-to-handle carrier bag and four then fit into a cardboard box which is easy for just one person to carry.
That means one person can quickly take 20 FloodSax right to the scene of a flooding emergency in the US. Imagine one person trying to shift 20 sandbags like that.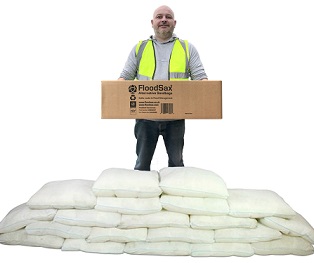 FloodSax are badly needed in the USA as a recent report revealed that climate change is responsible for flood damage totalling $75bn in the USA over the last 30 years.
Researchers at Stanford University in California have discovered this amounts to a third of all the damage caused by flooding in the country between 1988 and 2017.
Flooding has been described as "the number one natural peril in the US" by global insurance company Munich RE.
One of the main problems is the US Atlantic hurricane season which runs from June to November and 2020's record-breaking 30 named storms caused devastation across several US states.
Flooding caused by hurricanes has been a major problem and people have struggled to get sandbags. Even when authorities provide them people have to do the back-breaking work to fill the sandbags and the number they can have is strictly rationed, sometimes to as few as 5. People sometimes have to bring their own spades and, in some cases, even their own sandbag covers to fill them with sand themselves. One city just provides empty sand bags and then people have to buy sand from somewhere else to fill them.
This is why so many Americans now use FloodSax alternative sandbags across the USA – especially its southern states - instead.
It's not always the most powerful storms that cause the most devastation – it's the ones that are very slow-moving and hang around for a long time. The most damage from a hurricane is caused by flooding as just one inch of floodwater can cause up to $25,000 damage to a home or business.
Scientists say hurricanes and tropical cyclones are moving more slowly than they did in the past and dumping massive amounts of rain as a result.
Scientists say climate change is to blame and a recent example of the new slower storms was Hurricane Sally in September 2020 which deluged 30 inches of rain on some southern USA states, including Alabama and Florida.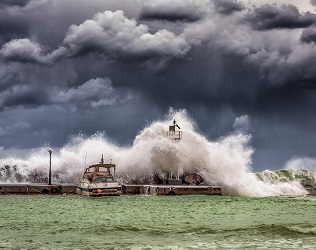 Steve Cochran from USA environmental expert group the Environmental Defense Fund said: "Scientists have found that hurricanes are moving more slowly which leads to more rain dumped over one area.
"At the same time, climate change is increasing moisture in the atmosphere creating greater downpours during hurricanes, thunderstorms and other heavy rain events. In the south-eastern US there is around 30% more rain falling today during heavy downpours than in the late 1950s and the number of 2-day heavy rainfall events has increased by around 60% since the early 1900s."
Lots more information on how America's climate is changing here. 
Some USA cities suffer significant rainfall – some almost every other day – and to discover which they are click here.
We reveal which are the wettest states in the US – and the top one may well surprise you. Click here to find out which it is.
Overall, the USA has more than 1 million homes in areas prone to flooding.
But this flooding misery can be avoided with FloodSax alternative sandbags and by keeping floodwater out of a warehouse, for instance, can save hundreds of thousands of dollars in damage.