Flooding can happen anywhere, anytime and any place as this graphic photo shows.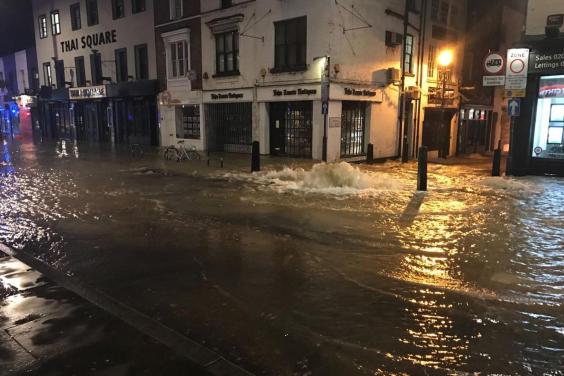 For a ruptured water main turned a street in Islington, North London, into a fast flowing river leading to 50 homes and businesses being evacuated. It is feared to have caused hundreds of pounds in damage.
Dramatic images shared on social media showed torrents of water flowing down Upper Street after the pipe burst in the early hours of Monday morning.
Businesses in the popular shopping and dining district around Camden Passage were under water and part of the A1 was closed to traffic.
Some 100 people were sent to nearby pub the Steam Passage Tavern as their homes flooded.
Resident Jeannette La, 34, said: "We woke up at 5.30 and there was a waterfall of water coming down our stairs. The whole road was a lake- in some places it was coming up to my shin."
Many people faced water feared to be as deep as two metres flooding into their basements.
A spokeswoman for Thames Water said: "We're really sorry to everyone affected by our burst pipe.
"We've stopped the flow of water and are now planning how best to repair it with as little disruption as possible.
"We don't except water supplies to be affected by this work. Our loss adjusters are on their way to the area to support those affected by the flooding with insurance claims and making arrangements for alternative accommodation."
For more on this story go to http://www.standard.co.uk/news/london/islington-flooding-streets-submerged-under-water-as-severe-flooding-hits-angel-a3412116.html
* An effective way to protect your home or business from floodwater is to have a box of FloodSax sandless sandbags in your home or business. They are available from the 600 Travis Perkins stores nationwide in the UK or online at www.floodsaxdirect.com